Talking About Death Won't Kill You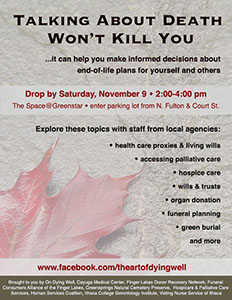 We hosted Talking About Death Won't Kill You for three years in Ithaca. Think of it as an information fair for death and dying-related topics. Staff from local organizations came together to help you explore:
advance directives: health care proxies & living wills
accessing palliative care
hospice care
wills & trusts
organ donation
funeral planning
green burial
We had hoped to bring a version of this event to other towns in Tompkins County in 2020. However, the pandemic put an end to those plans. For 2021, we're thinking about ways to make the same sort of information available virtually. We'll post something here when we figure that out.
---
Ithaca Death Cafe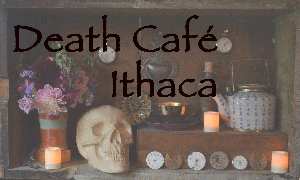 We support the quarterly Death Café here in Ithaca. "At a Death Café people drink tea, eat cake and discuss death. The aim is to increase awareness of death to help people make the most of their (finite) lives."
Normally, when we have a date scheduled, we post it on the Death Cafe website. However, we've gone virtual with the Death Cafe every other month and we're not posting it on the international site. If you are interested, please email deathcafeithaca@gmail.com to be put on the mailing list.
---
Advance Directives Workshops
The workshops focus on the two types of advance directives that are not medical orders, the Health Care Proxy and a Living Will.
A Health Care Proxy (also known as a durable power of attorney for health care) allows you to name another person to express your wishes and make health care decisions for you if you cannot speak for yourself. Everyone age 18 or older should have a Health Care Proxy named.
A Living Will lets you state your wishes for end-of-life medical care in case you become unable to communicate your decisions.
We have two "flavors" of this workshop:
It's Not If, It's When…
This introductory workshop on making informed decisions about end-of-life plans for yourself and others explores types of advance directives, including the Health Care Proxy form and Living Will; and the importance of completing your paperwork and sharing it with the right people.
Advance Directives Working Session
This workshop is a working session where everyone can complete their Health Care Proxy and Living Will. This is for people who know they need to get their paperwork done, but just haven't gotten around to it yet. People fill out forms and discuss considerations and challenges with the facilitators and with one another.
---
How to Be a Health Care Proxy
Have you been asked to be someone's health care proxy?
Do you understand your person's wishes and choices for end-of-life care?
Do you understand your legal responsibilities as a proxy?
In this workshop, we explore what it means to serve as someone's health care proxy.
---
Future Projects
We're exploring a variety of new projects including a film viewing of the documentary "Living While Dying" with a discussion afterwards and a few different workshops:
defining your own good death
writing your own obituary