Drawing in the Meadow, Reflecting on Impermanence
"Tell me, what is it you plan to do
with your one wild and precious life?"
–Mary Oliver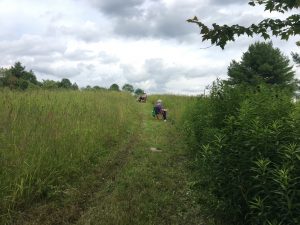 We did this workshop in 2021. It was a Covid-safe art experience in nature at the beautiful Greensprings Natural Cemetery Preserve. Over the first four sessions we observed and sketched outside—insects, leaves, trees, clouds—from the minute to the majestic.
We offered 'prompts' to inspire written reflections between drawing sessions. No need to know how to draw or write to participate. For the fifth session, we shared some of our creations, and reflected on what our time spent in this place brought up for each of us.
---
Talking About Death Won't Kill You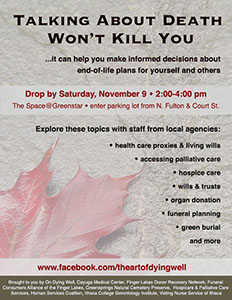 We hosted Talking About Death Won't Kill You for three years in Ithaca. Think of it as an information fair for death and dying-related topics. Staff from local organizations came together to help you explore:
advance directives: health care proxies & living wills
accessing palliative care
hospice care
wills & trusts
organ donation
funeral planning
green burial
We had hoped to bring a version of this event to other towns in Tompkins County in 2020. However, the pandemic put an end to those plans. Through 2023, we've been doing some educational programs online.
---
Ithaca Death Cafe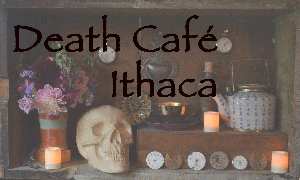 We support the quarterly Death Café here in Ithaca. "At a Death Café people drink tea, eat cake and discuss death. The aim is to increase awareness of death to help people make the most of their (finite) lives."
When we have a date scheduled, we post it on the Death Cafe website. We started meeting in person again in August and our next Ithaca Death Cafe is scheduled for November 11. If you are interested, please email deathcafeithaca@gmail.com to be put on the mailing list.
---
Advance Directives Workshops
The workshops focus on the two types of advance directives that are not medical orders, the Health Care Proxy and a Living Will.
A Health Care Proxy (also known as a durable power of attorney for health care) allows you to name another person to express your wishes and make health care decisions for you if you cannot speak for yourself. Everyone age 18 or older should have a Health Care Proxy named.
A Living Will lets you state your wishes for end-of-life medical care in case you become unable to communicate your decisions.
We have two "flavors" of this workshop:
It's Not If, It's When…
This introductory workshop on making informed decisions about end-of-life plans for yourself and others explores types of advance directives, including the Health Care Proxy form and Living Will; and the importance of completing your paperwork and sharing it with the right people.
Advance Directives Working Session
This workshop is a working session where everyone can complete their Health Care Proxy and Living Will. This is for people who know they need to get their paperwork done, but just haven't gotten around to it yet. People fill out forms and discuss considerations and challenges with the facilitators and with one another.
---
How to Be a Health Care Proxy
Have you been asked to be someone's health care proxy? Do you understand your person's wishes and choices for end-of-life care? Do you understand your legal responsibilities as a proxy? This workshop may be useful:
if you've been asked to be someone's health care proxy, but don't really know what that entails; or
if you haven't chosen a health care proxy for yourself and want to get a better sense of who might best serve you in that role.
We did this workshop live in early November 2020 and recorded it. Watch it here to learn more about what it means to serve as someone's health care proxy. You'll want to download the following documents before you watch:
About Us
Angela Mennitto is a death midwife and community educator. She organizes community education events to promote death literacy—the practical know-how needed to plan well for the end of life—to help normalize conversations about death and dying. She has been hosting a Death Café in Ithaca since 2013.  The last three years she organized, together with Deb Traunstein, a community event called "Talking About Death Won't Kill You" that brought together staff from local organizations to help people explore the many aspects of advance care planning. She is passionate about any activity that helps normalize conversations about death and dying in our culture, anything that helps us "bring death out of silence."
Deb Traunstein, LMSW, MBA, has worked as a medical social worker for the past 40 years. She has held positions in a variety of healthcare settings, including hospitals, homecare agencies, hospice services, palliative care programs, private practice, and most recently as the co-creator of an out-patient palliative care program at Visiting Nurse Service of Ithaca called Advanced Illness Management (AIM). Deb is especially passionate about educating the general community and healthcare personnel about the importance of Advance Care Planning, and uses actual clinical experiences to illuminate various aspects of this critical topic.
---
Sound & Vision: What Does Dying Well Mean to You?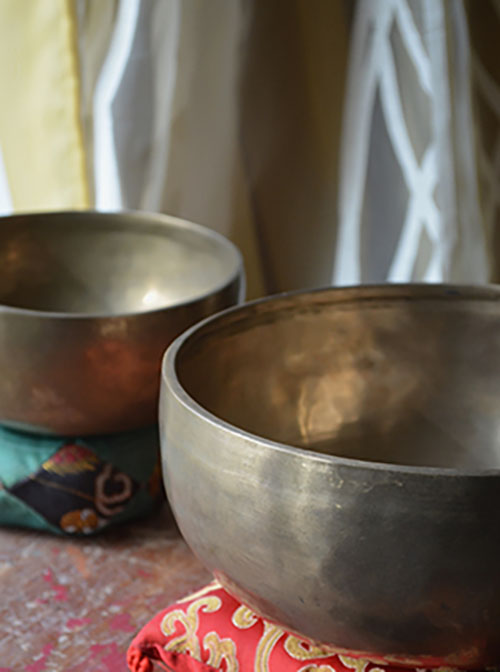 What would make your last weeks, days or hours most peaceful? What do you want around you at the end of your life?
What music, chants, prayers, or teachings—if any—would you most like to hear?  Are there photographs or other works of art you would like in your line of sight? Is there one special person, or a few people, who you want to be near you for support?
Work on your aesthetic, spiritual, emotional advance directives, rather than your medical ones (i.e., health care proxy, living will).
They say that hearing is the last sense to go before we die. We use sound—singing bowls, guided meditation, humming—as a tool to help explore what dying well means to you.
The outline for the day alternates periods of experiencing and creating sound, guided meditation and contemplation, with capturing and sharing your thoughts on your relationship to your mortality and what a good death might mean to you.
How you die is an extension of how you live. How can we allow our mortality to consciously affect the way we live—the choices we make?
It is a time to experience, to contemplate, and to share your vision.
About Us
Angela Mennitto is a death midwife who works to organize community education events to promote death literacy—the practical know-how needed to plan well for the end of life—and to help normalize conversations about death and dying.
Bernadette Fiocca, a licensed massage therapist for over 30 years, is an irrepressible explorer of what constitutes health. This led her to study many kinds of bodywork as well as the energetic components of the body (meridian and chakra systems). She has a deep interest in exploring how sound frequencies promote peace, awareness, health, and harmony.
---
Future Projects
We're exploring a variety of new projects including a film viewing of the documentary "Living While Dying" with a discussion afterwards and a few different workshops:
defining your own good death
writing your own obituary